DePaul Junior Meredith Schorr - First NCMF Event Management Intern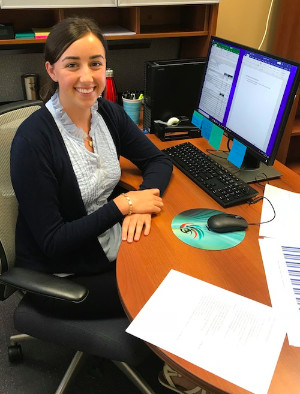 DePaul School of Hospitality Leadership Junior Meredith Schorr spent her summer in Maryland as the first-ever Event Management Intern with the National Cryptologic Museum Foundation.
The Foundation, as part of a private-public partnership with the National Security Agency (NSA), is going to build the Cyber Center for Education and Innovation (CCEI) facility at Fort Meade, Maryland, which will house a new National Cryptologic Museum.
---
Meredith's primary task was to draft a business plan for utilizing CCEI spaces as a conference and special events venue. She developed a description of the kind of services that could be offered; performed market analysis; drafted marketing, pricing, and sales strategies; and projected revenue that the Foundation might expect from sponsoring events.
Meredith worked with retired senior executives from the federal government, architects, staff from similar non-profit foundations, and a myriad of individuals involved in local special event planning. The plan she produced provides much-needed information as the Foundation plans its future.